Vancouver Saltwater Salmon Fishing Report
We finally got a break in the weather a few times last week and there were certainly no shortage of boats out there enjoying the conditions.  I can't say I was surprised, after one of the wettest and windiest months in recent history, there was some serious cabin fever going on!
The fishing was what I would call standard, if you put in a good solid effort you got your chances at legal fish.  In terms of location, we are about midway through the winter season and the fish are well spread out.  The harbour is starting to pick up, right on que, as more herring start to congregate in the area.  The past few weeks there have been decent reports from the Freighters, QB, Bell Buoy, and out a little further towards the QA.  The fishing in these areas will continue to get better as more fish move into the area to feed on herring.  Usually this fishery peaks mid March.  If you want to burn more fuel, there are some fish to be had in the usual spots in Howe Sound.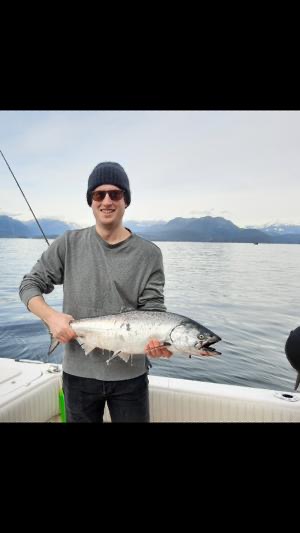 I have covered gear extensively in past reports and not much has changed there.  Solid producers this time of year are Herring Aid spoons in G-Force 3.0 or 3.5, Kingfisher 3.0 or 3.5 and Skinny G.  If you want a brighter presentation Trailhead, BC, and Irish Cream in the same spoons and same sizes can be very effective.
Prawning continues to be very good and we recommend dropping prawn traps on all our full day winter trips.  It's a great way to end the day.
See you in the shop or on the water,
Jason Tonelli