Vancouver Saltwater Salmon Fishing Report 
I am pleased to report that once again this year we are seeing some really nice size fish.  This time last year we got into some fish in the twenty pound plus category, a lot of them hatchery, and I wasn't sure if that pattern would repeat itself.  Well it did, and some of the spots that produced last year are producing these hefty fish again this year, almost to the day and tide.  That's why you keep a detailed journal, it pays off with big fish like this in our local waters. 
For the most part these fish are suspended, and we are seeing then on our sonar from 80-140 feet and are adjusting our depths on the riggers accordingly.  There are few spots where we are in shallower water and we are fishing 35-75 on the rigger.  Each spot is a little different, so stay focused on the sonar screen and adjust as needed.  This is yet another case for having good electronics.  We are literally marking the bait and chinook and then catching those chinook.  I can't imagine fishing without that kind of information; it obviously plays a huge role in our success.  Also, just as important is you can tell when the fish aren't there, so you don't waste time fishing empty waters.  If you aren't seeing this kind of information on your system, give me a call at the shop and we can see if we can tweak it for you or let you know what it would take to upgrade.  
We have been fishing bait and spoons for the most part.  Some of the productive spoons have been Irish Cream, Herring Aide, Trailhead, Pink Sink, and Homeland Security.  For bait we have been using 5.5 and 6.0 inch anchovies or Green size herring.  Productive flashers have depended on depth.  Some good ones for the mid water column are Green Onion Glow, and Purple Onion Glow.  These have a nice combination of flash, UV, and glow.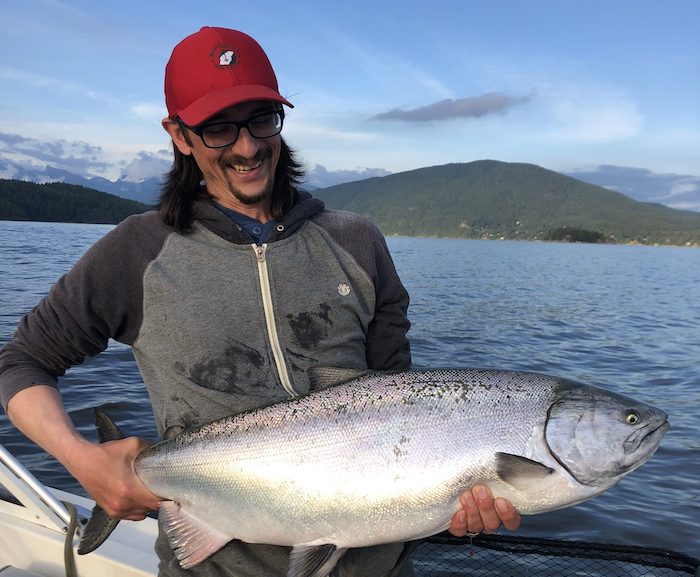 We didn't make it across to Thrasher this week so we don't have much to report from there, but the fishing is likely pretty good as per usual these past few years.  Crabbing continues to be good and we aren't dropping prawn traps as the commercial season is underway. 
If you would like to experience some of this chinook action, give us a call at 778-788-8582. 
See you in the shop or on the water, 
Jason Tonelli